Ram 1500 Albemarle NC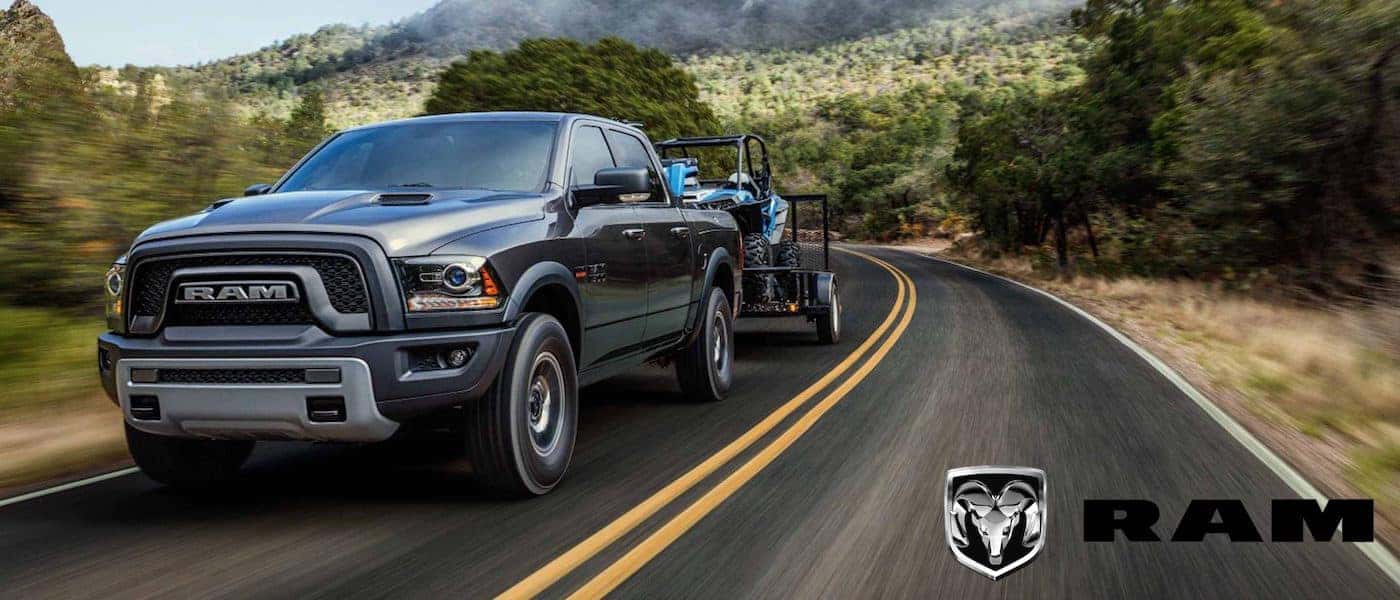 Szott M59 Chrysler Jeep
Discover the Power and Comfort of the Dodge Ram 1500
Whether you go back road, off-road or dirt road, the line of Dodge Ram 1500's has the right truck for you. And Stanly County Chrysler Dodge Jeep wants to offer the best value at best price for our local Albemarle NC shoppers.
Still Growing Strong: Rugged and Reliable
Once again, the Dodge Ram 1500 is a favorite light-sized pick-up that provides great value. It doesn't just offer the least expensive truck with a MSRP of $27,000, it offers the lowest price in every trim selection. And the savings continue with low miles per gallon ratings, particularly the Ecodiesel that drives with a 29 mpg (highway). Whether you work hard or play hard, the Ram 1500 doesn't back down from a challenge. It can easily tow up 10,640 pounds and haul up to 1,880 pounds.
Choices, Choices, Choices
With nearly a dozen trim levels, the Dodge Ram 1500 offers something for every terrain and every work demand. The line-up starts with a basic V6 engine in the Tradesman and the Express. Then, it bumps up to the mid-level models with a powerful V8 engine. These include the Sport, Harvest and Rebel, which is a crowd-pleaser for the off-road drivers. In these cars, you enjoy an Eight-Speed Automatic Transmission, Coil-Spring Rear Suspension and Self-Leveling Air Suspension. More refined tastes land you in the Laramie and the Limited selections. These categories offer wooden interior accents and heated leather seats.
You can also customize your cab and truckbed. Selections include Regular Cabs (two door), Quad Cabs (four door) or Crew Cabs (four door with big rear doors and more legroom). Truckbeds range from short beds (5 feet 7 inches), to standard beds (6 feet 4 inches) to extended beds (8 feet). The handy-dandy RamBox® is available in shorter bed option. This cool invention has a lighted tool box built right into the bed rails.
So many options, so little time. Let the folks at Stanly County Chrysler Dodge Jeep help you navigate to the right selection.
Solid as Steel on the Outside, Cushy on the Inside
Whichever trim you pick, the cab will be quiet and spacious because this truck doesn't sacrifice comfort for economy. Reliable suspension, solid steering and handling produce one smooth ride, with brakes built to meet a heavy load.
The voice-activated Uconnect infotainment system rounds out the experience with standard features such as a USB port and six audio speakers. Upgrades include a 10-speaker audio system, satellite radio, Bluetooth, navigation, Apple CarPlay, and Android Auto.
Safety is paramount to this brand. Crumple zones, side-impact door beams, rearview cameras and airbags are all standard. Front and rear parking sensors are also available.

New Ram 1500 Albemarle NC
Your search for a new Ram Ram 1500 ends here at Stanly County CDJR. With the best prices in town you won't find a better deal on this incredible vehicle in Albemarle NC.

Pre-Owned Ram Albemarle NC
There's no shortage of affordable driving options here at Stanly CDJR. Check out our reliable selection of pre-owned vehicles and bring home your favorite to Albemarle NC today.
Pre-Owned Selection

Incentives and Rebates
Make the most of your online shopping experience by taking advantage of our current incentives and rebates. Get the best deal available on your new Ram with Stanly County CDJR.
Stanly County Chrysler Dodge Jeep: Where Everybody Knows Your Name
It's time to put your favorite Dodge Ram 1500 in your garage. Whether you lean toward a Tradesman or a Limited, Stanly County Chrysler Dodge Jeep has got the right truck for you. We make it easy because we know trucks and we know what you need.